Chandigarh, the dream city of India's first Prime Minister, Sh. Jawahar Lal Nehru, was planned by the famous French Architect, Le Corbusier. Picturesquely located at the foothills of Shivaliks, it is known as one of the best experiments in urban planning and modern architecture in the twentieth century in India.

Chandigarh derives its name from the temple of "Chandi Mandir" located in the vicinity of the site selected for the city. The deity 'Chandi', the goddess of power and a fort of 'garh' laying beyond the temple gave the city its name "Chandigarh-The City Beautiful".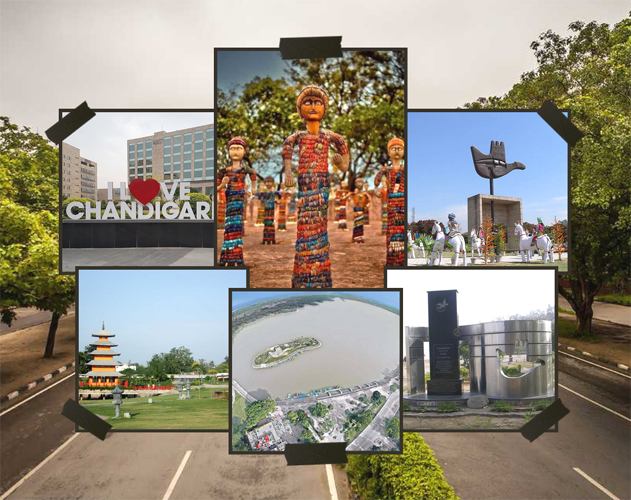 In March, 1948, the Government of Punjab, in consultation with the Government of India, approved the area of the foothills of the Shivaliks as the site for the new capital. The foundation stone of the city was laid in 1952. After the reorganization of Panjab in 1966, the city was declared a Union Territory, however it continues to be the capital city of both, Punjab and Haryana.

Le Corbusier conceived the master plan of Chandigarh as analogous to human body, with a clearly defined head (the Capitol Complex, Sector 1), heart (the City Centre Sector-17), lungs (the leisure valley, innumerable open spaces and sector greens), the intellect (the cultural and educational institutions), the circulatory system (the network of roads, the 7Vs) and the viscera (the Industrial Area). The concept of the city is based on four major functions: living, working, care of the body and spirit and circulation. Residential sectors constitute the living part whereas the Capitol Complex, City Centre, Educational Zone (Post Graduate Institute, Punjab Engineering College, Panjab University) and the Industrial Area constitute the working part. The Leisure Valley, Gardens, Sector Greens and Open Courtyards etc. are for the care of body and spirit. The circulation system comprises of 7 different types of roads known as 7Vs. Later on, a pathway for cyclists called V8 was added to this circulation system.

Popular tourist spots in Chandigarh include Leisure Valley spread over 8 km, including many parks like Rose Garden, Bouganvilla Garden, Topiary Park and more. Rock Garden showcasing a mosaic of colourful art pieces made using materials collected from demolished sites, is divided into three main sections. Section one displays a huge array of ceramic pots, chambers, and niches decorated with broken bangles, tiles, mirrors, toilet fixtures and tube light parts. Statues of birds, animals, and humans made from waste materials are also installed in this area. Section two consists of a large man-made waterfall, a maze of pathways, courtyards, amphitheater and a miniature village. The third and the last section includes life-size statues of camels and elephants. Sukhna Lake is another iconic place worth visiting. One can enjoy its Pristine beauty, go boating on the paddle boats and shikaras, go for camel ride, get a portrait made, ride a mechanical bull and not to miss a trip to bird park, Shimla and Kasauli hill stations are very nearby.